---
Logo design for the Lighting and Decor business segment of Lindencraft.
---
The main requirement from the client was that the logo must be cohesive and on-brand with our current logo: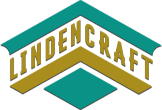 To do so, I ended keeping both the color scheme, as well as the general shape and layout for "LINDENCRAFT". However, I wanted to use a design that spoke to the "Lighting and Decor" segment specifically, so I thought this perspective design lended itself beautifully to an old lantern-style light fixture. I added some ornamentation to the top and bottom, as well as in the interior diamond shape. As a whole there's a bit of an optical illusion, as the viewer can't quite resolve if the corner is coming at them, or away.
I love the result!