The Task: Create a logo for this new initiative, described by Media Source Inc (its founder) as:
An Ebook platform that libraries can purchase and patrons can check out/share self-published works
For Libraries Only – Upper Teens and Adult genres
For self-published authors — helps them promote the availability of their book
Previous Logo: Doesn't exist! This is a brand new initiative so no design or branding was yet in place. I'm very familiar with Media Source's overall brand, however, as I worked as their Senior Marketing Designer for 5+ years a few years back. I wanted this new logo to tie into their other products and look like "one of the family," while still standing out on its own.
New Design: After initial discussions with their Director of Content Strategy & Audience Development, I knew I wanted a design that captured the following points:
Stay within Library Journal's(a Media Source sub-brand, and who will be closely tied to "Self-e") current design aesthetic and color scheme – red, black, blue, white; Neutral, powerful, authoritative.
Play off the use of "Self-e" as the name. Media Source realized the word's allusion to a current topic, but their hope is that this product will live much longer than the "selfie" fad – and thus didn't want the design to pigeonhole them into the current trend completely.
Imagery should be geared toward writing, or books, or self-publishing in some way
THE FINAL RESULT: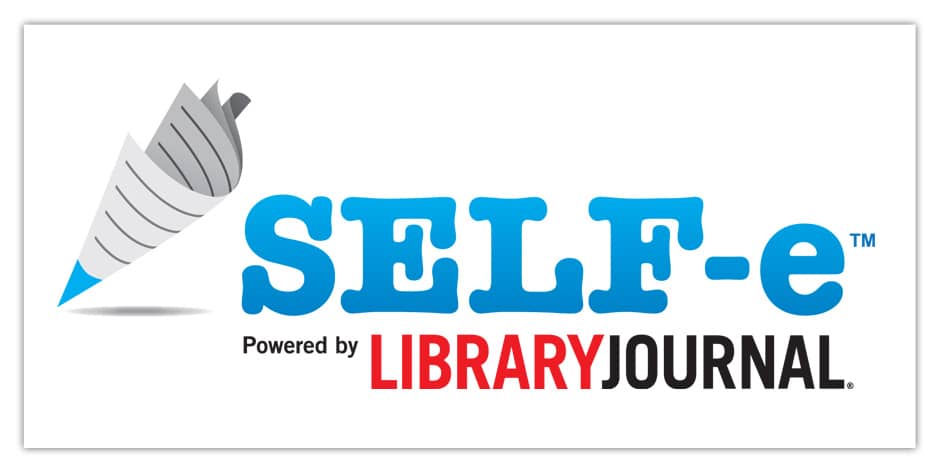 I thought this design captured all of the above, and then some!
The font choice for "Self-e" was intentional – alluding to a typewriter. The pencil icon morphs into pages of a book – all key elements to a self-published author. And then I brought in the Library Journal logo to add some authority and trustworthiness, as the audience of "Self-e" will immediately recognize Library Journal and be more apt to learn more about the new product.