The Task: Redesign a logo for Syosset Public Library (SPL).
Previous Logo: SPL is currently in the process of updating their online presence by creating a Mobile App for their customers, which led them to evaluate their current branding. And that's where I come in!
They contacted me to create a logo that would fit in with their current website (www.syossetlibrary.com), which at the time displayed their name in text only to avoid using their current logo.
Initial Logo: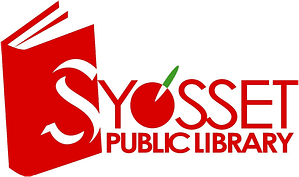 After an initial conversation with the Library Director, I discovered that they held pretty much zero allegiance to their current logo. They didn't like the red color, they didn't quite know what the "O" was supposed to represent (an apple? a feather?), and overall were looking for a complete departure.
Redesigned Logo: Syosset Public Library did have some direction for me as I embarked on this new design:
They wanted to stay with a Green color scheme – to match their current website
They wanted the logo to have an element of movement
They liked the idea of keeping a book, or reference to a book
Modern, clean, and legible
THE FINAL RESULT: